First Photo Walk Without a Camera
It was another gorgeous day in Colorado.
During TAGTOBER 2011 I started taking long weekend walks to Cherry Creek State Park, down the road from my apartment. Any trip to the park meant at least a 2 to 3 mile walk, and I found this a very pleasant way to combine finding a picture for TAGTOBER, getting some exercise, and enjoying the wonderful weather and natural beauty Colorado has to offer.
These photo walks, as I call them, have been one of the best parts of this fall season.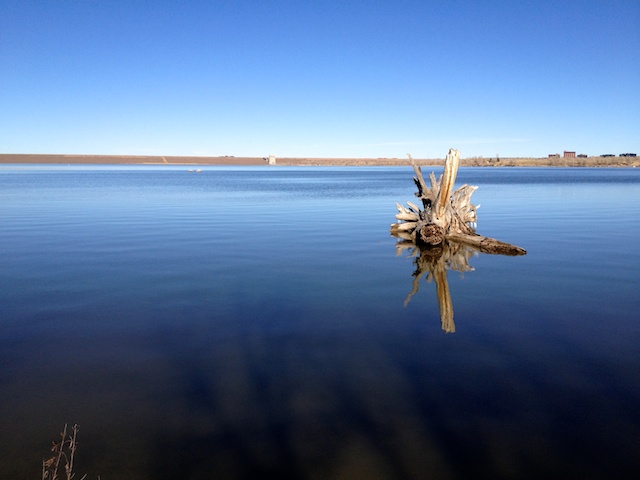 ---
After Sunday coffee at Einstein Bros this morning, I decided to take another. I had a few podcasts loaded on my iPod, no plans for the day, and it looked like perfect walking weather.
I headed towards the park, but unlike any previous walk, I didn't have a camera. Unless you count my iPhone 4S. I decided to.
It didn't take too long to get used to the iPhone as a camera. Unlike the original model or the 3GS I had before this, the iPhone 4S takes pictures that are almost good enough.
I mean, they no longer look like pictures from a camera phone. They look more like pictures from a cheap point & shoot. Not a replacement for my SLR but definitely smaller. And I had it with me.
I noticed two main things about this method while on my walk, and another back at home going through the photos:
The iPhone 4S gives a photographer much less flexibility and control than a more traditional camera; this applies even if the traditional camera has a fixed lens.
Even so, not wearing a larger, heavier camera is freeing in many ways. There's no worries about slamming it into something as you scramble over a fallen tree, for example.
The photos taken by this latest model are very good; as I said they are on par with a cheaper point & shoot. But solid fields of blue, like a Colorado sky, have a large amount of noise.
Image quality from digital cameras is increasing all the time, and I'm still in the market for another relatively large camera for those dedicated photo trips, but going forward if I don't have my SLR with me I won't hesitate to pull out my phone instead. And I won't be thinking about just how much better my pictures could be if only I had a better camera. You can still be creative with this thing, and the results are good enough you won't feel let down by the hardware.
Related: iPhone Photo Walk gallery.
— Steve
Posted on 27 November 2011